Championing climate change
With the world at a critical point in its care of creation, the Church must be seen to be leading the way in reducing carbon emissions, says Marcus Zipperlen, Diocesan Creation Care and Sustainability Officer
At April's Governing Body meeting the Church in Wales voted by an overwhelming majority to:
declare a climate emergency
disinvest from fossil fuels
reduce our carbon dioxide emissions to zero, ideally by 2030
Bishop Joanna proposed the motion and argued persuasively for the need to respond to God's call to care for creation, and address with urgency the need to reduce our greenhouse gas emissions to avoid catastrophic consequences for all of God's creatures.
Governments around the world are making commitments to reduce their greenhouse gas emissions but, mostly, these are too little to meet commitments they have already agreed to by signing the Paris Climate Agreement in 2015. The UK is an exception here, with the recently declared aim of cutting emissions by 78% by 2035, although policy certainly doesn't match this ambition yet. To have the moral authority to encourage and call them to account is fantastic: the Church has taken this important step towards reducing our own emissions as fast a possible, and put our money where our mouth is by immediately disinvesting from fossil fuels.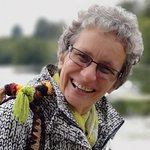 We have also employed a Climate Champion, Dr Julia Edwards, to draw-up an action plan to help us work together. Have a look at the latest video on the Creation Care web-pages of our diocesan website (https://stdavids.churchinwales.org.uk/en/faith/creation-care/), where Julia introduces herself and the task before her.
The commitment to become a zero carbon Church is a very significant step and will require a lot of energy (renewable of course) and commitment from us all. But it is also a great opportunity to engage with our communities in work all of us can agree is hugely important, which is a gift for our ministry and Church life. If you want to make a start then working towards becoming an Eco Church is an excellent way, and you can find information and links on the Creation Care pages of the website.
But before and alongside any action let us pray:
Loving God, open our eyes to recognise the goodness of all creation and help us to do what we can to restore and care for the wonderful gift that we have been given. Amen.