Building resilience
In March 2021 a year-long project looking at the impacts of climate change on Fishguard & Goodwick reported to Pembrokeshire Public Services Board. Alan Netherwood, Honorary Research Fellow at Cardiff University School of Geography and Planning, sets out the priorities for building resilience
Increased frequency of severe weather impacts like storms, flooding and heatwaves are widely predicted in coming decades due to the impact of past carbon emissions into our atmosphere. The project involved residents, groups, councils, agencies, utilities and businesses exploring how these changes will impact on the towns, their infrastructure and environment and how to adapt to meet them.
Of particular note were potential impacts on road transport infrastructure; inland and coastal landscape; essential utilities - energy, communication, water; and the sufficiency of current planning for future. The Plan identified five priorities which can build resilience through agencies, authorities and the community working together.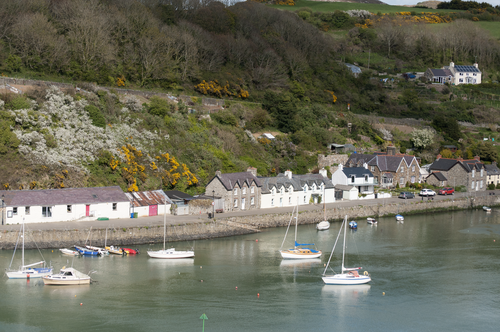 Climate Risk to Lower Fishguard – establishing a multiagency and community task and finish group to explore how this vulnerable area can respond to the impact of rising sea levels..
Goodwick Moor's role in climate adaptation – establishing a multiagency task and finish group to support ongoing Management Planning for the Moor as a major asset for climate adaptation.
Fishguard & Goodwick in 2050 – co-production of scenarios to inform and stimulate discussion within the community about the future of the towns under climate change
Climate Risks and Assets Map - undertaking a community and multi-agency mapping exercise to localise risks and understand the assets available to respond to climate change
Future Costs & Benefits of Climate Change an analysis of the potential economic costs and benefits of climate change for Fishguard & Goodwick to inform regeneration planning, funding, public service provision and development in the towns.
It is vital that people see that climate changes are coming due to past emissions, that more severe weather events will become the 'norm' by mid-century, and effective planning for these is essential. Climate change will impact locally, and the local people and the agencies that serve them need to work together on these types of activities to build resilience.
The Plan identifies the key roles of local organisations to engage with Pembrokeshire Council, Natural Resources Wales, and other member organisations of the Public Services Board to deliver on the priorities above. Updates are available from Emma Taylor at Natural Resources Wales: email emma.taylor@cyfoethnaturiolcymru.gov.uk