A benevolent society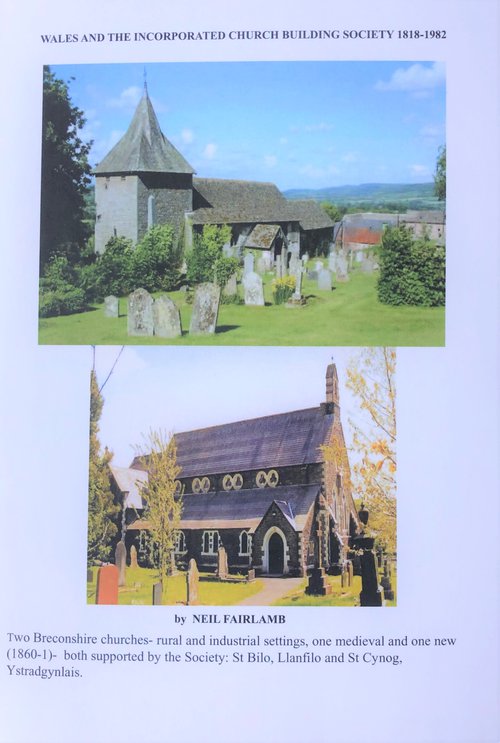 Wales and the Incorporated Church Building Society 1818-1982
By Neil Fairlamb
ISBN: 978-1-80049-66
Copies are available at no cost (p&p appreciated) from the author: Revd Neil Fairlamb, All Saints Vicarage, Tilford, Surrey GU10 2DA; fairlamb49@gmail.com
Revd Neil Fairlamb's book, 'a celebration of clerics and architects', represents a record of the huge work accomplished by the Incorporated Church Building Society (ICBS), which operated between 1818 and 1982. The society's purpose was to provide grants towards the building of new churches together with the restoration and expansion of existing buildings, with a view to providing additional and free accommodation. All the revenue came from voluntary donations and not a penny was provided from the public purse.
It appears that well over half of the Anglican churches in Wales applied at some stage for grant aid. Some churches submitted successful multiple applications, such as the majestic St Beuno's at Clynnog Fawr, which received no less than six awards. In total, around 80% of all grant submissions were successful, and Wales seems to have benefited disproportionately well from the work of the ICBS.
The primary source of this research is the original grant application files of the ICBS held at Lambeth Palace Library. The author provides a summary of each in chronological order listed within traditional Welsh counties, to which he adds succinct notes on the purpose of each application and its eventual outcome, and brief biographies of the scrutinising members of the Committee of Architects.
It is natural to check if any familiar churches have been included in the volume. My present church at St Peter's, Elerch, Ceredigion, is a particularly interesting case in point, and a church once ministered by Revd Fairlamb. Consecrated in 1868, as an outpost of the Oxford Movement, it applied successfully for a grant, receiving an award of £35. However, for some unknown reason the payment was never made and was subsequently cancelled in 1871; in today's money the £35 award would equate to £4059.83, which would certainly bring much joy to our Treasurer!
The file on neighbouring St David's Church, Capel Bangor, a new build of 1837-39, and the only example of a replicated traditional 18th century church in Cardiganshire, is also interesting. Surprisingly, St David's was only one of three new Anglican churches built in the county between 1800 and 1851, in comparison to a staggering 133 new chapels. St David's attracted a huge grant of £200 (around £20,000 today) with a promise that it would accommodate 400 worshippers, with half the seats free to the poorer population of lead miners and farm workers.
Neil Fairlamb deserves our thanks for compiling a book which is meticulously researched, well-written and illustrated, highly informative, and with measured humour when appropriate.
Richard E Huws