Being prepared for life
Power tools, conservation, the environment, digital literacy and community engagement - today's scouting movement equips its members for life, says Revd Lorna Bradley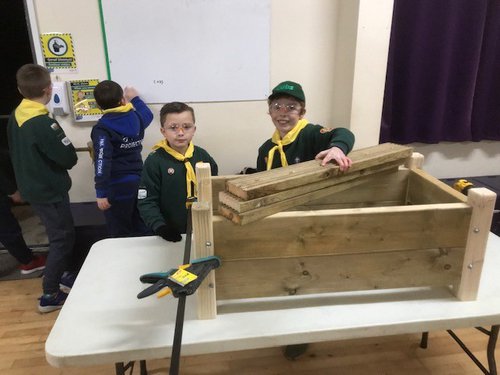 There's nothing quite as exciting as handing a power screwdriver to an eight-year-old and watching them handle it with great competence and skill! Well, that was my recent experience when I volunteered to help with the St Clears Cub Scouts as they assembled wooden planters. Split into sixes they tackled the tools, screws, nails and hammers with practised skill then democratically discussed the merits of which elements of each member's individual drawings should be selected to go onto the plaques, plaques which will show which sixes had planted up the boxes when later, in summer, they'll be in full bloom.
St Clears Cub Scouts, along with Beavers, Scouts, Brownies and Guides, are blessed with a clubhouse, a patch of ground outside and enthusiastic volunteers who put energy into each meeting. At Christmas – in an hour and a half – they made table centrepieces, Christmas cards, and candle mugs to take home and shine in the windows.
Since their establishment in 1907, the principal of bringing young people of different backgrounds together has remained a well-respected element. So much so that the St Clears groups are over-subscribed and all have waiting lists. Lord Baden-Powell would be proud to see that they've also moved with the times, being mixed gender and welcoming those of all beliefs and backgrounds.
The motto has remained the same but badges now include digital literacy, web design and there are two faith-specific badges – My Faith' and World Faiths' - to engage with. There are also badges that we would recognise as encouraging good living including Global Issues, Environmental Conservation and Community Impact, where they actively address issues of the world and look at ways to improve the situation locally, for example contacting and working with child refugees.
The St Clears groups are very active in conservation and have been working to turn their patch of ground into a community garden. Having received a grant, they have succeeded in installing three large, raised beds – including one for the local care home – and will soon be putting up their greenhouse. Sowing seeds will be happening in the next few meetings.
As these seeds grow and bloom so will these children, passing on their good deeds to the next generation and knowing that what they learn in these clubs are skills for life.
Would you like to volunteer? Visit https://www.scouts.org.uk/ for more information.