Armchair Pilgrim
Lyn Dafis thinks about the pleasure of the virtual pilgrim
I am an armchair traveller.
Dreaming of flying around the world to visit a UNESCO designated site sounds exciting until faced with the reality of the hard work of doing so. Because of this, my world is confined to the length of my bookshelf. In other words, I will turn to my travel and history books for a taste of the places I would like to visit rather than the reality.
With the various restrictions that come with the rules to limit and control the spread of Covid-19, parts of the diocese have appeared at times as far away as the other side of world. But that is where I want to go. I want to walk the old paths and follow where ancestors in the faith have gone before me. This is where books have become a valuable resource and their authors have allowed me to tread the paths of pilgrims in the diocese; books such as the series Crwydro Cymru and the books of T.I. Ellis, E. Llwyd Williams and Aneirin Talfan Davies about Ceredigion, Pembrokeshire and Carmarthenshire or the volumes of Thomas Lloyd, Julian Orbach and Robert Scourfield about the same counties in the Pevsner Buildings of Wales series.
With these books as companions there is no problem finding the place I'm looking for. You also don't have to lose face when confessing to someone on the side of the road that I'm lost and I wonder if I could be instructed on how to get to wherever.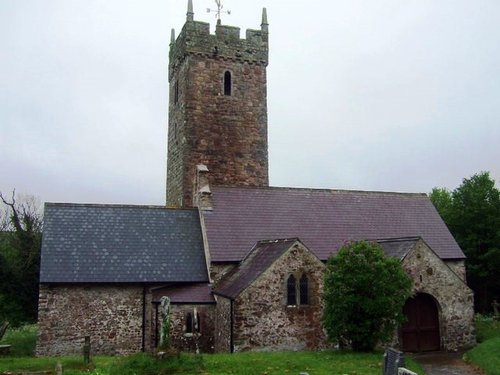 I'm going to go to Pembrokeshire, of course. And the place that has been calling me is St Decuman's church, Rhoscrowdder, just outside the town of Pembroke. The village has disappeared in the shadow of the oil refineries and the church closed for worship. But through the work of Friends of Friendless Churches the building is open to welcome visitors. There is no way to describe the tranquility of the place. Pictures can help to convey the uniqueness and beauty of the building but nothing can convey the atmosphere. Except for one thing. This is where Waldo Williams was inspired to write his poem Cofio (Remembrance) and the atmosphere of that poem is the atmosphere of Rhoscrowdder for me: "One fleeting moment as the sun is setting, / One gentle moment as the night falls fast, / To bring to mind the things that are forgotten, / Now scattered in the dust of ages past."
Where will you go on pilgrimage from your armchair?
Picture credit: ceridwen. CC-BY-SA 2.0