Ancient traditions for the 21st Century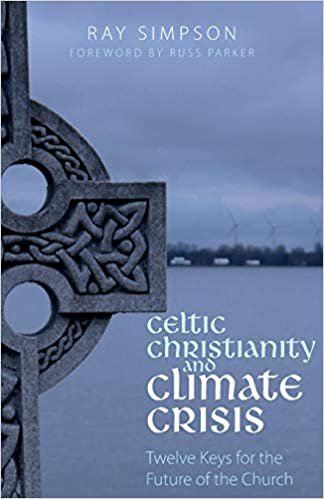 Celtic Christianity and Climate Crisis: Twelve Keys for the Future of the Church
By Ray Simpson
Pub: Sacristy Press; 2020
ISBN: 978-1789591156
Price: £9.99
The term Celtic Christianity conjures up many different images of a time long forgotten and a part of the Church's history that is seemingly irrelevant for us in the 21st century. Ray Simpson encourages us to look again and re-evaluate the Celtic way and he proposes a way of interpreting Celtic Christianity into a present day context.
Each of the book's twelve chapters leads you to a greater understanding of the Celtic tradition and leads to 12 keys, as he describes them, that can open doors, heal the broken and "lay the foundation for a new civilization of love". These keys are:
1 Connect with Jesus at the heart of creation, caring for it as he directs us;
2 Journey together in our differences; culture is more important than uniformity.
3 Discard all that is fake and become aware of what is real – roots, rhythms, relationships and reality.
4 Regard all branches of Church as family; pray for them; pledge to weave together the God-given strands in Christianity that have become separated.
5 Draw inspiration from empowered women who empower others. "Release the Divine Feminine/Masculine glory: Let women as well as men flow in their greatness"
6 Invite and allow the Spirit to speak to us.
7 Allow ourselves to be influenced by the great spiritual resources and people of the past.
8 Recognise that God's goodness is at the heart of humanity and is planted more deeply than all the evil and wrong that we see on the surface.
9 Re-connect with Christ, turning away from the secular, reimagining the ancient in new ways.
10 Look to restitution justice as a "medicine for crime and social ailments".
11 "God is community, and we are to reflect that community in our lives, our churches and our society."
12 "Faith communities of the future need to soak the locality in prayer and seek its wellbeing, understand and befriend all who serve the common good, and link networks up in a spirit of community."
I found this book to be rigorous in its approach; easy to read, yet rich enough that I will read it again. My understanding of Celtic Christianity has been challenged and I found myself drawn to Simpson's conclusions. I will definitely look more closely at the Celtic traditions and their approach, using these keys, to foster a healthy church community.
Revd Sophie Whitmarsh