All change in the chaplaincy
Two new interns at Lampeter have hit the ground running, reports Mones Farah
A strategic response to the vacancy in the University Of Wales Trinity St Davids chaplaincy, created by the move of Revd Ainsley Griffiths, necessitated inviting the chaplain of Lampeter to take on both chaplaincies, which she accepted. Thus the chaplain was licensed to both campuses towards the end of 2020 and moved to be based mainly at Carmarthen, doing four and a half days there and a day and a half in Lampeter.
This created a need for a continuous presence on the Lampeter Campus, and so, in discussion with, and partnership between, the diocese and the university we decided to set up two internships on the Lampeter Campus within the Fourth Archdeaconry. In September 2021 both interns moved into student accommodation and took up their posts.
Their role is to maintain a Christian witness and presence by supporting the chapel community in providing and coordinating regular and visible worship engagement with the outreach program under the leadership and direction of the Chaplain Revd Dr Emma Whittick. Both Celine Cuddihy and Rueben Zwigelaar started on 8th September for the duration of the academic year 2021/2022.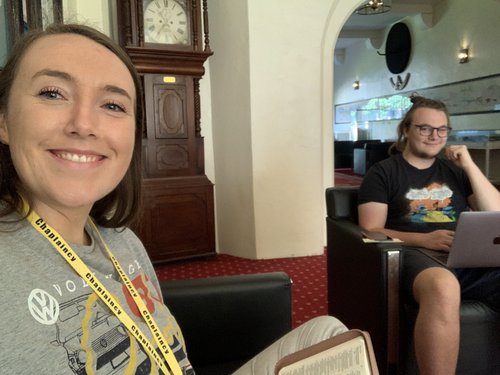 Celine, a recent graduate in Theology from Lampeter, comes to us from Roose LMA, with a varied Christian ministry and mission background. Reuben is from Aberystwyth LMA, a young man who grew up attending St Michael's Church where he was a regular volunteer with the children and youth groups. He is a recent graduate from the London School of Theology and is about to complete his MTh from the same institute.
During these difficult times, they have hit the ground running and have brought us tremendous blessings through their lifestyles and contributions.
What are they there to do? They are contactable for pastoral emergencies 24/7. Responding to emergencies is part of their role and they are also available to chat, perhaps over coffee, and engage in other fun activities. Their desire is to get to know everyone on campus, to provide cheer and encouragement throughout the year. They are here to provide pastoral support to both staff and students, of any faith or no faith at all. Their job is to come alongside and support in any way they can. They also keep the life of the chapel running with daily services that both staff and students are welcome to explore and experience.