A vision for a fair housing market
Lyn Dafis spoke to Jeff Smith of Cymdeithas yr Iaith Gymraeg (The Welsh Language Society) about its vision for a response to the rural housing crisis
Cymdeithas yr Iaith recently held a series of rallies highlighting the problem of the lack of affordable homes to buy and rent in rural areas of Wales.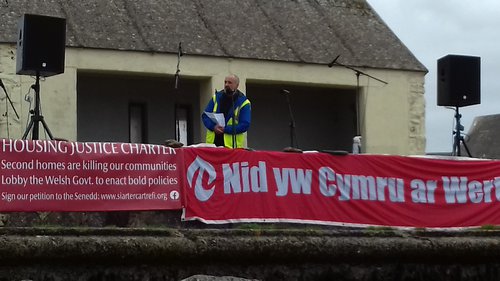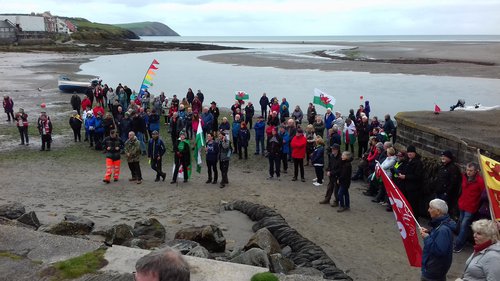 (c) Cymdeithas yr Iaith Gymraeg
Jeff Smith, Chair of the Ceredigion Region of Cymdeithas yr Iaith, explained the reason for this. "We believe that everyone has a right to a home in their community. But governments treat housing as a way of making profit, rather than as homes. Prioritising capital over the well-being of communities has had disastrous consequences. At the moment the situation is getting worse. But things don't have to be this way. With the right policy initiatives, homes could be ensured for all, along with strong and just communities, allowing the Welsh language to flourish.
A rally was held recently in Newport, Pembrokeshire, calling on the Welsh Government to act meaningfully. One of the speakers was Hedd Ladd-Lewis, "I grew up in Newport and the town has changed completely. The future of Welsh as a community language is worrying as house prices are depriving local people of the right and ability to live in their communities as more and more houses are bought as second homes and AirBnB accommodation. If this doesn't change what will the future of the local primary school and other services be?"
On average a house in Pembrokeshire sells for £227,000. As the county's average wage is £26,466 it is very difficult for local people, especially young people, to buy a house to live locally. Heledd Evans, from Moylegrove, has been looking for a home in the area where she grew up. She spoke at the rally about her experience, "With the huge rise in house prices this year, the future for our area's youth and the rest of the countryside is more uncertain than ever. No youth means no future for our rural Welsh communities."
Jeff says that there are things that could be done as a matter of urgency such as introducing a tourism tax and investing the money raised in local communities, regulating AirBnB properties and introducing a tax on houses that are used as businesses. "But ultimately we want to see a comprehensive Property Act requiring local authorities to assess local housing need; making housing and property available at a fair rent; providing assistance to first time buyers, and offering shared tenure schemes; prioritising local people in the housing market; and planning for the community, based on the views of the community."