A Pembrokeshire pilgrim's prayer quest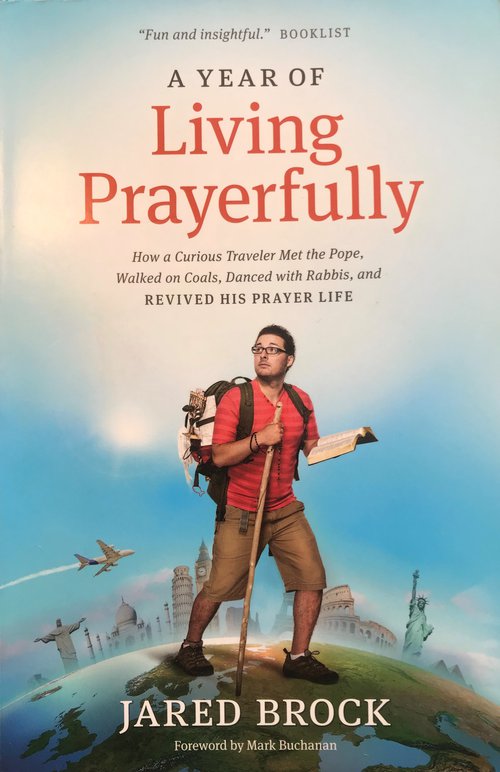 A Year of Living Prayerfully
How a Curious Traveller Met the Pope, Walked on Coals, Danced with Rabbis, and Revived his Prayer Life
By Jared Brock
Pub: Steward Communications; 2nd edition 2018
ISBN: 9-7819-99522421
Price: From £12.20
---
What do you do when prayer becomes mere routine? What if God is silent, or does the opposite of what you have prayed for? Is prayer primarily an attempt to get God to do things for us, or is it, as Pope Francis tells the author of this book, "opening up your heart to God [and] in silence letting God's power come inside you." Jared Brock, a Canadian writer and film-maker who lives in Pembrokeshire, set out on a year-long pilgrimage across the world in search of answers to these questions.
Dissatisfied with his prayer life, Brock embarks on his quest with an open mind and armed with a sense of humour, much needed when faced with the pious superstition and touristic tat that can develop around religious traditions. What are we to make, for instance, of the naked hermit with a floor-length beard on Mount Athos who is reputed to have spent so much time with the angels that he began to sprout feathers?
There are moments of disappointment, bafflement, and even disgust with some of what Brock encounters. But there are epiphanies, too. Standing in the Garden of Gethsemane, Brock ponders Jesus' anguished but unanswered prayer to be spared the suffering of the cross. He realises that had it been granted, there would have been no salvation for us. God surely has good reasons when he says no.
"Mystical saints with unbelievable stories" make Brock yearn for "keeping prayer simple." St Teresa of Ávila and St John of the Cross are found to be less helpful guides than Francis of Assisi and the rule of St Benedict. He declares Ignatius Loyola his "favourite Catholic Saint" having discovered, like many others today, the value of Loyola's Spiritual Exercises. Brother Lawrence, the humble monk who practised the presence of God in the daily toil of a monastery kitchen, also becomes a hero.
This book approaches various traditions of prayer in an informative and practical way, which makes it a good read for our Diocesan Year of Prayer. It encourages us to seek personal revival through prayer. When we find our way in stillness and quietness into God's presence, God can begin to change us, and through us, revive the church and change the world.
Revd Dr Peter Bement