A country of enormous potential
Benjamin Rwizibuka reports on the food and agriculture industry in our Companion Diocese of Bukavu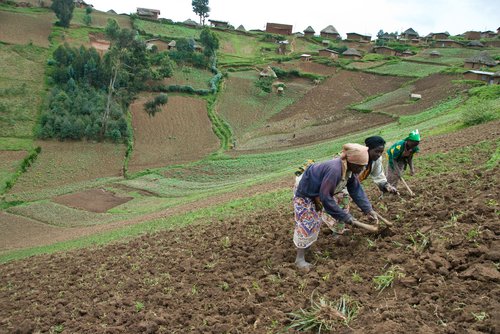 The Democratic Republic of Congo (DRC) has enormous agricultural potential with at least 80 million arable hectares. Beyond small rivers that can be found here and there, the DRC has 30 large rivers that flow directly into the Congo River, the second longest (4371 km) in Africa and the most powerful by its flow (41000 m3/s). The average temperature is around 25 degrees Celsius and its position straddling the equator provides a variety of climates conducive to uninterrupted crop production throughout the year. It is unfortunate, however, that the DRC is one of the countries where famine is increasingly rampant. The number of people affected by acute food insecurity is estimated at 27.3 million, including nearly seven million people struggling with emergency levels of acute hunger.
Nearly 80 per cent of the population lives in rural areas and depends mainly on agricultural activity. On average, a household has less than one hectare to work on. Agriculture is mainly dominated by families and small farms, who produce, with rudimentary techniques, a diversity of food, horticultural and cash crops. The most popular crops in the DRC are cassava, maize, rice, groundnuts, plantains, potatoes, yams, wheat, sorghum, beans, soybeans, niebe, taro, sweet potatoes, onions, tomatoes and other vegetables.
However, there is a modern sector operating farms whose main products are fibres, rubber, millet, palm oil, cinchona, cocoa, tobacco, cotton, tea, sugar cane, papain and sesame. This sector is dominated by foreign investors and a few national companies.
The majority of agricultural plots (80% on average) have been in operation for decades and are cultivated continuously without resting. Among the main constraints related to production are water erosion, soil depletion and loss of organic matter. In the east of the DRC, farmers suffer daily from harassment by armed rebel groups. Hence some provinces are already devoid of inhabitants. Added to this is difficult access to land for ordinary citizens, the cumbersome and expensive process of land acquisition, difficult access to agricultural help, lack of information on new agricultural technologies and climate change.
Given the problem of education in the DRC, it is international and local NGOs who have taken charge of increasing production by rural households and it must be admitted that the result in recent years has been rather remarkable.