12th century Wales - around us every day
Events in 1171 inspire talks, presentations and tours, as Mari James, Cathedral Library Development Officer, explains
The 12th century was an important time in the long, and often controversial, history of Wales. There is evidence of this around us every day in the cathedral, a large part of which was built during that time. Our unique Library Collection holds records of the period, albeit not the original manuscripts.
The Bishop's Crozier that had been loaned to the British Museum's exhibition Thomas Becket Murder and the Making of a Saint returned home safely in September. The crozier is now back on public display in the Cathedral Treasury, alongside the north transept, with other rare 12th century survivals of cathedral and church life. These can be viewed at any time the cathedral is open.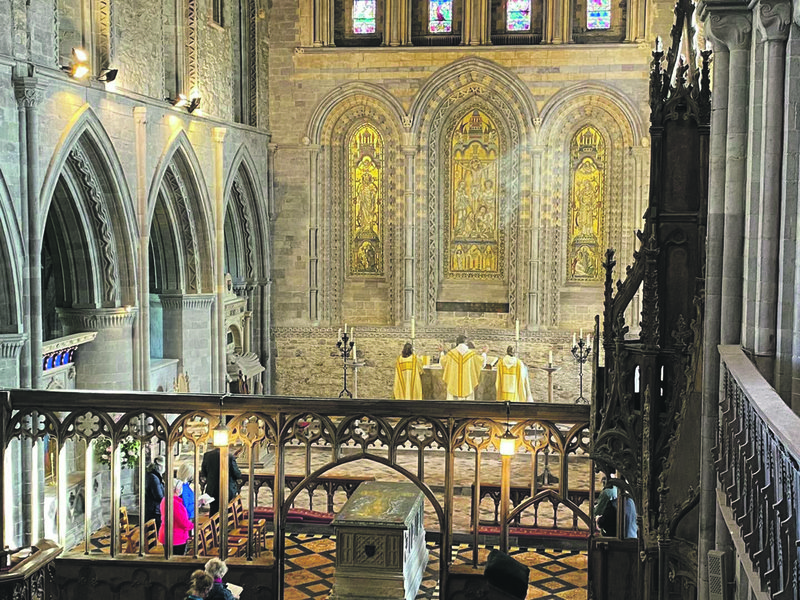 Considerations of what happened here 850 years ago, and how much we really know about it, were undertaken in special tours of the 12th century parts of the cathedral; lectures & events in Libraries Week and exhibition panels, including at the tombs of Arglwydd Rhys, Gerallt Gymro and St Thomas Becket Chapel. On Michaelmas Day this year, 29th September, the usual noon Solemn Mass at the High Altar [pictured] was especially well attended. It was exactly 850 years since Norman King Henry II had come on pilgrimage to St David as part of penance for any involvement in Becket's murder. That must have been a controversial day!
Some of these talks, and other presentations, are accessible on the Cathedral Library webpage. These include a lecture by Prof Norman Doe on new material on Giraldus Cambrensis' canon law work, available on the cathedral's YouTube channel. The reference in the medieval Welsh annals Brut y Tywysogion/Chronicles of the Welsh Princes to "the singers to God and St David" at the 1171 Michaelmas pilgrimage inspired a session on Neumes to Now by Vicar Choral Christopher Limbert, recounting the tradition of choral music in the cathedral over the centuries. And a new annual tradition was created, with two Michaelmas caps being presented to choristers as a reference to some of the royal pilgrimage gifts made at Michaelmas 1171.
All this has prompted several requests for bespoke group visits to the Library and Treasury, which are now being arranged safely and still include some anti-Covid-19 measures. Any enquiries about such group visits from churches around the diocese can be sent to me at Library@StDavidsCathedral.org.uk.